Cruise the streets in the style of an early 20th century motorcycle with, The Ruffian Cruiser!
This unique, state-of-the-art eBike is a real eye-catcher that's both powerful and dynamic. The developers of the Ruffian made no compromises when it comes to style and quality. Quite simply, The Ruffian, is the best built eBike on the market! Each one is handcrafted and built in Germany. It's frame is aluminum and hand-welded.
The electric motor is made by Bosch from of Irvine, California and is one of the top and most successful small motor companies in the world over the past decade with motors and electronics in many motor vehicles today.The Ruffian is equipped with Bosch's most powerful drive unit, the CX line. The 250 Watt battery and 75 Newton meters of torque provide up to 300% of perfectly delivered assistance to support powering your ride up to 20MPH!
The Ruffian is one cool ride and makes you want to keep riding and go farther! And you can with it's 55 mile range of power supporting assistance.With best in class start-up behavior, the Bosch system makes sure you get a perfect start on the first push. Plus, the on board computer adapts to your riding style giving you a progressive, consistent ride.
Experience The Ruffian today and test drive, you'll be taken back to the days of when you never got tired of riding your bike!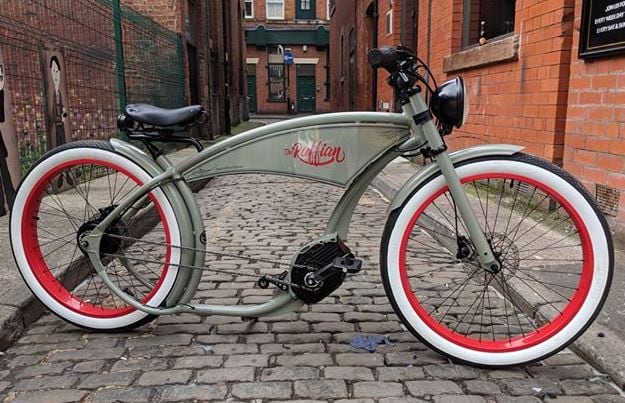 There are 4 levels of riding assistance as follows PLUS a Walk Assist mode:
For cruising around town use the Eco or Tour mode.
Eco Mode - Provides a 55% assistance factor. This is effective assistance at a Maximum battery efficiency with a Maximum cruising range.
Tour Mode - Provides a 120% assistance factor. Uniform assistance for touring with a Long cruising range.
For Off-road, hills & Speedy rides use the Sport or Turbo mode.
Sport Mode - Provides a 210% assistance factor. Powerful assistance for sporty off-road riding as well as urban traffic riding.
Turbo Mode - Provides 300% assistance factor. Maximum assistance supporting the highest speed for sporty riding. Maximum battery consumption.
Walk Assist - With an eBike, the weight of The Ruffian is a bit more than a standard, heavy-duty bike. By pressing the "Walk" button and the "+" button while walking the bike uphill on a sidewalk or in close quarters, this feature makes the Ruffian as light as a feather!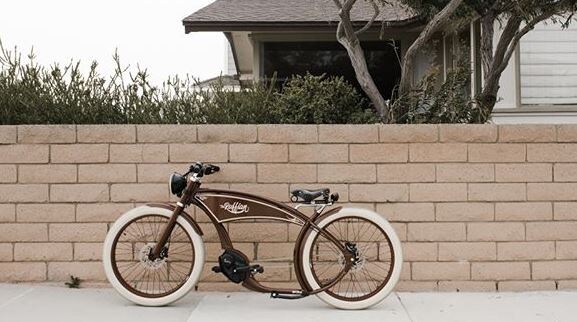 Information and Specifications:
*Bosch Motor CX Line, 250W, 75 Nm of Torque, 4.5 hrs. for full charge, 2 year warranty.
*Range of assistance, 55 miles depending on conditions.
*Maximum Speed is 20 MPH assisted. Once reached, motor is Off. Once under 20 MPH it re-engages.
*System automatically turns Off after 10 minutes of inactivity to save power.
*Frame - Aluminum Hand-welded, 5 year warranty / Powder-coating, 2 year warranty.
*LED headlight and rear lamp. Tires are 26" x 3".
*Nuvinci Gear Hub for Step-less Shifting, just twist and gear ratio is changed for more/less resistance, 1 year warranty.
*Hydraulic Disc Brakes for powerful stopping ability.
*Accessories include many styles of handlebars and large, roomy leather side-saddlebags to carry your stuff.
*A charging USB port is located on the computer head for various things like a cell phone using a Micro A - Micro B cable.
To see more on the manufacturer, please visit their site here then call Sunbury Motors to schedule your private showing with Ben Amerman, 570-286-7746 ext. 150.